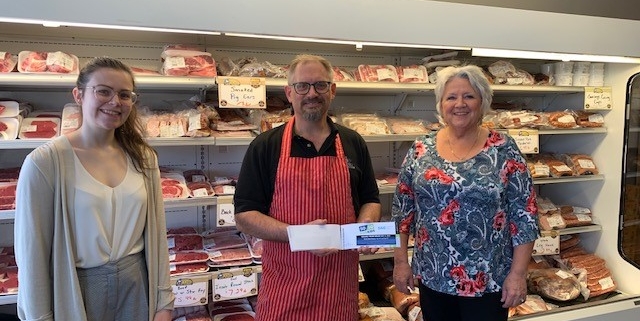 It's all about wellness and The Steinbach Arts Council is singing this tune! I was privileged to be part of the founding group who created the Steinbach Cultural Arts Centre in 1996. The Steinbach Arts Council had existed since 1979 as a group who presented concerts, and awarded funding to local artists and arts groups who were scattered around the community in schools, churches and homes.
Then finally, due to a dedicated group of community enthusiasts and the City of Steinbach's funding, all these artists and groups would have a home, in the old Kornelsen School – The Steinbach Cultural Arts Centre. There would be classes in visual arts, dance, theatre, music, and literary arts and a Hall Gallery for art exhibits. It would become the ARTS recreation hub of the southeast!
Who knew it would also become a WELLNESS HUB serving all demographics, all ages, all cultures and all socio-economic backgrounds? Well, that is was. And is more than ever today.
We are kicking off our 3rd 50/50 for Kids! Fundraising Raffle where all proceeds will go towards our After School Arts Program (ASAP) focusing on wellness for our youth.
ASAP is about connection. We bring kids together in a safe environment to learn through the arts. We break barriers, making the arts available to anyone, and we provide the best instruction possible.
This year is focused on the overall wellness of our kids. Nothing is more important as we begin to let go of pandemic restrictions and stresses. With that in mind, we continue to make wellness and human connection a priority in our programming. This year's programming will include more group music classes, like violin, piano, and song writing, with tons of opportunities to work collaboratively with others!
Art has been at the centre of wellness forever – but only now is the public becoming aware of its benefits in emotional, spiritual and mental health forums. Creativity is a wellness practice and we now know there are numerous reasons to make it part of your "wellness resolutions."
In 2010, a review of existing literature on the benefits of the arts (music, visual arts, dance and writing) by Stuckey and Noble considered more than 100 studies, concluding that creative expression has a powerful impact on health and well-being on various patient populations. Most of these studies concur that participation and/or engagement in the arts have a variety of outcomes including a decrease in depressive symptoms, an increase in positive emotions, reduction in stress responses, and, in some cases, even improvements in immune system functioning; visual art therapy, for example, is trending toward many of these health gains and more.

Are you an audience member? Even engagement in the arts as a viewer can have an impact, but if you really want to benefit from the arts for wellness, studies continue to show that your active participation is the best bet (Bolwerk et al, 2014).
Why is Art important?
Besides its wellness components, art inspires creation, innovation and teamwork. It requires observation, reflection and implementation.
It provides problem -solving skills and improves student achievement. And it encourages cultural acceptance. In brief, creativity is increasingly being validated as a potent mind-body approach as well as a cost-effective intervention to address a variety of challenges throughout the lifespan.
So, you are not just 'buying a ticket to win'. You are inspiring creativity and wellness and investing in its power and ability to create a healthy community. And exactly THAT – even more than winning the $50,000 jackpot – is priceless.
Support your 50/50 for Kids! Raffle. Support your Steinbach Arts Council and your youth. Support your community. Everyone wins!
This blog is a special contribution by Cindi Rempel Patrick. She as one of the founders of The Steinbach Cultural Arts Centre, the former CEO of the Steinbach Arts Council for nearly 30 years, and presently the Director of Development.
https://steinbacharts.ca/wp-content/uploads/2022/04/5050ticket-mayor.jpg
480
640
Angelica San Juan
http://steinbacharts.ca/wp-content/uploads/2023/11/SAC-Logo-Teal-No-Words-300x115.png
Angelica San Juan
2022-04-12 14:21:49
2022-10-11 15:53:42
Art & Wellness - The Winning Jackpot!