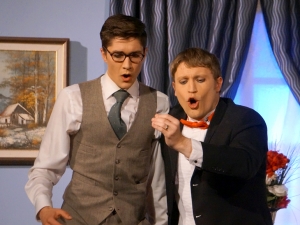 As a presenting organization, it's important to the Steinbach Arts Council that we find opportunities to highlight the wealth of talent in our community.
LEND ME A TENOR is exactly one of those opportunities for us!  When I asked Jeremy Plett, Director of this upcoming community production, to tell us what it's like to direct a show for SAC, here's what he said…
"It's a week before the show. Billy still doesn't know his lines. Jessica keeps forgetting where she is supposed to be standing in Act 1 and the final scene of the play is a complete mess. You are filled with dread. You realize that this was the most foolish undertaking of your life. You try to decide if it would be more of a humiliation to cancel the show or to go on with it. You decide the only way out is to push forward. You have your dress rehearsal. The cast stumbles through the show and there are a couple of bumbled lighting cues, but the improvement between this and the last rehearsal is substantial. If everything improves this much for the opening night, you might just have a show on your hands! Opening night is here. How could you have ever doubted? The cast was amazing. This is why you do this! People came in droves. They laughed, they cried. The cast and crew have drawn closer than you ever thought this group could. Each show everyone grows in confidence, the cast's performances get stronger and stronger. You are filled with overwhelming pride. Then suddenly it's all over. All of your passion, stress, and excitement is replaced with a feeling of emptiness. You are left with two very strong thoughts: you will never again do this show with this cast, and it breaks your heart. You also know that you have to do this again!" – Jeremy Plett, Director
We look forward to showcasing an awesome local cast on Friday and Saturday, March 6 and 7.  With three shows from which to choose, plus an INCREDIBLE ticket price for local music and theatre students, don't miss this amazing theatrical comedy!  It will have you rolling with laughter!